Emergency Pumping & Flood Control
We're ready to help you 24 hours per day, 365 days per year
Sometimes it happens, whether to a property owner, a municipality or a rural county: the water comes fast, drainage fails or is overwhelmed and suddenly the water is everywhere.
Ketek Infinity has the personnel, the equipment and the experience to remove floodwater. We helped remove flood water from downtown Fort McMurray when the waters of the Athabasca and Clearwater Rivers crested their banks in the spring of 2020, but most of our work is in situations that don't make the news. Flooding can happen in the most unlikely of places or be an everyday problem that can crop up on short notice. When it happens, give us a call.
Pumping water, especially large volumes over long distances, is not an easy thing to do. It involves calculations of atmospheric pressure, volume, flow rate, friction loss and more. To get the right pump – or series of pumps – for the job, you have to take all these things into account. It's a science that is at the heart of Ketek Infinity's skillset. It's a skill we are proud of and that we continuously strive to improve on.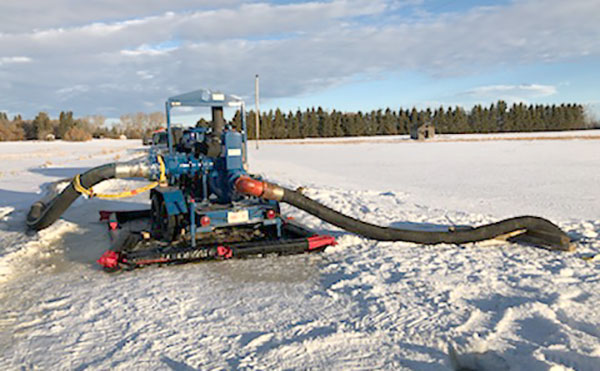 We can do everything from a simple, single-pump, one-day job to a months-long, high-volume job that can involve a dozen pumps or more in series.
We have a wide variety of pumps, from large diesel pumps to electric submersible pumps, centrifugal pumps, high-heat pumps, trash pumps and deep well pumps.